Un-Game Principle: Being willing to be courageous and compassionate can be a conscious choice even under circumstances people generally experience as very difficult.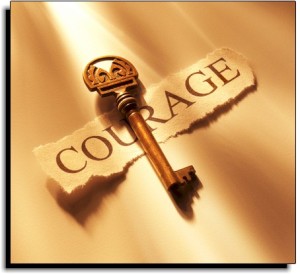 In Part 1 of Courageous Compassion, courageous compassion was defined as 'the ability to stay in caring relationship while simultaneously taking a stand that another's behavior is unacceptable and you will confront it'. It focused on relationships where the parties would describe themselves as having equal positional power: colleagues, friends, husbands and wives, partners. There are also examples of what a courageously compassionate interchange might sound like. But what about courageous compassion in so called unequal relationships like you and your boss, for example? Or a parent or teacher and a child? What might a courageously compassionate interchange be like when there's the experience of conflict for one or the other party?
It's counterintuitive to imagine that both parties to a conflict actually have the same responsibility, namely to take care of the other without losing sight of taking care of oneself. It's easy to envision a good boss taking the leading caretaker role. After all, he or she has more positional power, and the stronger is supposed to protect the weaker. In the office scenario, the boss surely wants to keep the good employee. Turnover is expensive. Besides, he might really like and value Melinda even if she "winged" the meeting whose success hinged on her report.
Let's say Gene (the boss) knows that his positional power gives him some perceived advantage in the interaction. He has the power to fire or make Melinda's life miserable. Fear of loss of job might make Melinda compliant. But Gene is wise enough to know that what seems like an advantage can hide a potent disadvantage. Compliant people aren't the best employees. He wants creative, motivated employees. This is an important value for him.
Gene's care-taking will include a conscious decision to minimize the impact of his positional power and maximize the use of his personal power to drive the interaction. In personal power we all have the opportunity to be equal, be it in incompetence, minimal competence, or even virtuosity. The playing field is level, and Gene wants to play on that field as much as possible. On the field of positional power, a disadvantage is that his position dramatically enhances the chances of Melinda going "out of her rational mind" and into ancient instinctual survival responses of fighting, fleeing, or freezing.
Not good for business. Not good for a well-lived life outside the business context.
Gene is smart to NOT use the greater power of his position. It's one of those examples that challenges the stubborn assumption "More is better." In fact more is sometimes less, and most often, more is simply more and nothing else!
Let's assume he's stated his assessment of the quality of Melinda's report. Here's what he didn't say. "This report is not of the quality I've come to expect of you. You were not prepared. If it happens again, I'll have to take some drastic measures. We can't afford mediocrity. It's not who we are." (The veiled threat and the lecture are a reminder of who's got the power. As if Melinda needs a reminder!)
Gene, wanting to keep Melinda engaged and wanting to minimize defensiveness, could use his personal power and begin the conversation like this: "Let's evaluate how the meeting went. How satisfied are you that we accomplished our objectives?" Then Gene and Melinda enumerate the objectives. "What was outstanding? Satisfactory? Missing?" A discussion and learning conversation ensue where Gene doesn't censor his own input. "I had expected X. It looks like you didn't have that expectation since it was absent from the report. Help me understand. Tell me your thought process. " More conversation ensues. "What will you do and by when to provide X?" Gene and Melinda settle on an action that satisfies them both. Gene could also make a demand. But he can soften it by simply asking, "Will that work or do you need to make me a counter offer?" (if a counter offer is acceptable).
The interaction between Gene and Melinda has the ingredients of a courageous compassionate conversation that moves a project along and enhances their relationship.
Let's switch to Melinda having a problem with Gene that she wants to talk to him about (OK, she doesn't really want to. But she's willing because it's occupying most of her waking hours. By now she has horrible-ized whatever Gene did, didn't, and will do.).
For many people it is simply unimaginable to consider confronting (standing in front of) a boss precisely because of the positional power difference. They can't imagine what courageous compassion for him, her, and self would look like.
But it's possible even under circumstances perceived as difficult.
First of all, Melinda would do well to remind herself that in the domain of personal power she and Gene are equals. As a matter of fact, it's precisely confrontations like the one she's dreading yet contemplating that will give her the practice she needs to increase her personal power. To acknowledge that and then to actually proceed are courageous acts.
Secondly, Melinda needs to consciously choose to be courageous. The act of conscious choosing comes from the best in ourselves, not from an emotion like fear. It is powerful and proactive in any interaction, but especially one in which the "confrontee" has more positional power than the "confronter." Melinda needs to act on what she intellectually knows: She is not her fears. She has fears. And she can be bigger than her fears!
And finally Melinda can consciously choose to be compassionate with Gene, remembering that in the domain of personal power she and Gene are simply two human beings doing the best they can with the light by which they are able to see. Gene, too, is no stranger to the fight, flight, freeze response defending against imaginary tigers and lions, his greater positional power being no help to him at all.
And so Melinda decides to talk to Gene who calls her frequently on weekends for non-emergency situations. She privately assesses that Gene thinks he should have unlimited access to her at any time.
Here's what Melinda doesn't do: she doesn't sigh and silently acquiesce to all of Gene's requests. She might begin by noticing her assessment. It's only an assessment. There seems to be good evidence, but can she really be sure it's what Gene really expects? Is he putting out a demand or just a request that she can accept or decline?
Melinda might open the conversation with "Gene, how important is this? This is my family time. Can we explore on Monday how I can help you accomplish X without cutting into my family time?" (Melinda is signaling she wants to help, would do so if it is really important, and intends to protect her private time).
Gene has an opportunity to see what may be a blind spot. Perhaps he does think he is entitled to Melinda's time. Or he gets to consider just how important his request is to him. In any event, the conversation is off to a good start. The next move, if Gene sputters a version of "But, but…," is for Melinda to hold her ground, quietly and firmly. "I'll give you an hour (if she's willing and able), but this has to be an exception rather than an expectation." If Melinda can envision playing the long game, she knows it's not sustainable to give up her private time and space. She will act with courageous compassion. Not just for Gene but for herself!
The truth is that confrontation in any relationship, be it among equals or those unequal in positional power, is risky. That's what necessitates courage–the courage to be willing to lose something important. But the confrontation, expressed with courageous compassion also opens up the possibility to gain something profoundly important, namely to connect genuinely with another person and to experience the deep satisfaction of growing one's personal power one interaction at a time. The ultimate prize is freedom to be what seems exceedingly difficult for most of us, namely to be ourselves! And the ability to stand for something…because if we don't…chances are we'll fall for anything!
Ingrid Martine, MA, PCC, Coach and author of The Un-Game , Four-Play to Business as Unusual, a show, not tell tool for coaches, managers, and "will do" teams, works with organizations and individuals to empower them to move their lives from a 7 to 10 at work, home, and play.  For her FREE report, "Reap the Harvest of a Quiet Mind:  Empower Self, Empower Others", or "Management Training for Business as Unusual", visit:  http://www.yourleadersedge.com, or connect with Ingrid at:  www.Twitter.com/ingrid_martine and www.facebook.com/coachmartine.