The Dallas Morning News and business book reviewer Jim Pawlak only review 2 of every 40 books they are asked to review each month.  I am pleased to share that The Un-Game: Four-Play to Business as UNusual was recently chosen and featured by Pawlak in The Dallas Morning News and at dallasnews.com.
Below is the review as it appeared on August 12, 2012. Even in its shortened version (Jim Pawlak has an editor too), The Un–Game's main message was preserved.
"Ultimately we cannot only change programs. We have to change visions. A new world in business as in the rest of our life depends on changed minds." By Jim Pawlak – Special Contributor
"The Un-Game: Four-Play to Business as UNusual" by Ingrid Martine (Your Leaders' Edge Press, $19.95.)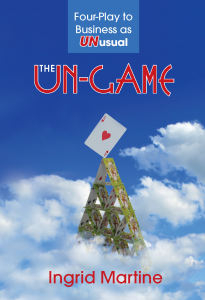 Ingrid Martine says the unaware life is incompatible with success. She introduces the COSA management process – Choose, Observe, Say Yes, Act.
If you choose to be a catalyst rather than a drone, controller or corrector you can constantly expand your comfort zone – and those of your staff. To observe you have to rid yourself of "monkey mind" – the Buddhist metaphor for self-limiting talk.
The monkey mind says "I can't," but really means "I won't."  It usually interprets situations in terms of what you're willing to do, rather than what you can do.  Observation helps change our minds because it shows us other perspectives.
Being uncomfortable can lead to "aha moments."  The monkey mind fears saying yes because it forces us to look at things differently.  Only continuous improvement moves you from where you are to where you want to be. And when you act you're engaging with others, not telling them what to do.  Showing people why, gets them thinking about how.
Jim Pawlak reviews business books for The Dallas Morning News.