Un-Game Principle:  Belief creates the fact.
I bet you've had an experience where somebody hasn't listened to you. They already "knew" what you were talking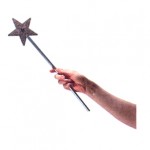 about. You've probably done it, too.  I have. The fact not withstanding that it alienates us from others and them from us, we continue on our merry way and do it again. And again. "I already know" is magical thinking. But has anyone in the whole history of the world ever quit on magic just because it didn't work? I doubt it.  So "I already know" may be three very dangerous words in any language. The best we can do, I suspect, is to notice our "I already know" thought, and if it comes up often, recognize that we're in the grips of an entrenched belief.
Help!
What happens when you're with a peer who says "I already know."?  You know, the secret self-proclaimed expert. Go ahead, look into your experience when someone has done it to you. What do you see? You see that you or what you're saying is no longer a possibility for the speaker. Done. End of story. What happens to you when you notice you've cast your pearls before swines?
You try to make your point stronger and louder.
You try to alert the other that they're not getting it.
You cast doubt on the value of what you're saying.
You feel hurt and withdraw.
Your energy drops to the bottom of the well.
If it's a boss who "already knows", you may not feel free to do numbers 1 and 2 above. You weigh the consequences because the boss you alert to his or her "I already know-ness" may fault you for disturbing their certainty, and that may be a punishable offense. Leaders who value that feedback are still in the minority.
Anything else? I don't already know!
The impact in inter-personal interactions of anyone who "already knows" is pretty dismal and has many ramifications for leaders, managers, and teams. And for individuals, couples, parents, teachers, etc.
"I already know" is costly to our capacity to be free to explore and learn, to productivity, and to relationships. You, as an enlightened leader who notices it in other team members, can be generous and gentle but not let it go unremarked upon. You might ask; "Do you already know this, or do you think you already know this?" "How do you know this is a fact rather than a conclusion?"  "If you didn't already know, what would you be looking at in this situation?" Tell me what you think you know about what I'm saying to you?" "Is there anything about what I'm saying that you find interesting? What would need to be added, subtracted, or changed about what I'm saying to make this useful to look at?"
There are probably hundreds of questions you could ask. Which one you ask matters less than doing the asking. The purpose of the questions is to reengage the speaker who "already knows," not to punish them. Your inquiry models the behavior you wish the "I already know-all-about this" person would demonstrate.  You offer breathing room and the meta-message that the other matters.
Yes, offer the very thing he or she didn't offer YOU!
The power of modeling has been well documented. Plus we know it from our own experience. How well is "Do as I say and not as I do" working? Enough said. Your asking powerful questions makes a powerful difference.
You're up to it.
If you're fortunate enough to notice it when YOU perpetrate the "I already know" on others (If  someone close to you has complained to you more than once, consider a coach to help you with this blind spot), you're almost home free. Noticing is the first and most powerful gift to yourself. Now you're at choice. The fog has lifted. You can change what you've become aware of.
 If you have any doubts about the negative impact your "I already know" has on others, you don't have to ask them. You can just go on an adventure. Rather than saying to yourself "Ok, fine. I don't already know" (You'll get pushback from that endless chatter that says "Yes, you do already know."), keep the belief "Being interested in my team's ideas may enhance our creativity" uppermost in your mind.  Your "try-it-on-for-size" belief will naturally direct your actions. Your actions will be different than actions emanating from the old  "I already know."  The only challenge will be to notice when the old belief turns up again. When it does, acknowledge it. "Ah, there you are again." Then shift to the other belief again. It may feel weird, but practice makes____________. Did you say "I already know! Everybody knows that. Practice makes perfect."
"Really?" I say. "Perhaps practice only makes progress. Does that interest you?"
Henry Ford was right when he said, "Belief creates the fact."  We have a belief, and then get busy gathering evidence to make us right. But we think that's not so. We act as if evidence leads us to any given  conclusion.  Wasn't it your so called evidence that led you to your "I already know what Mary is saying" conclusion?  What there is to know about the "Belief creates the fact" phenomenon could change everything. Careful. Do you already know?
Ingrid Martine, MA, PCC, author of The Un-Game and mind-ZENgineering coach works with organizations and individuals to empower them to move their lives from a 7 to 10 at work, home, and play.  For her FREE report, "Reap the Harvest of a Quiet Mind:  Empower Self, Empower Others", or "Management Training for Business as Unusual", visit:  http://www.yourleadersedge.com, or connect with Ingrid at:  www.Twitter.com/ingrid_martine and www.facebook.com/coachmartine.