Un-Game Principle: Corporate success can be measured in traditional terms only at great risk to our future.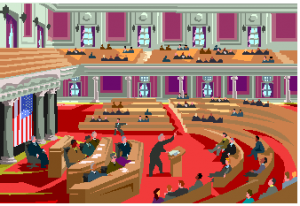 I'm a coach. Among the clients I coach are business leaders. Corporations have been vilified since the housing collapse of 2008, the economic bailout, outrage over CEO bonuses and CEO pay that is 300 times (or more) that of the worker, and the amazing amounts of money pouring into our elections when the Supreme Court in the Citizen United v. the Federal Election Commission decided that money could be speech. On the recent 3rd anniversary of the Supreme Court decision there were 75 cities asking their state legislatures through rallies to amend the Constitution and curb corporate power. Eleven states have already officially petitioned Congress.
The country is in great unrest. Independent of political party affiliation, we have deep questions about our institutions including our corporations which we, our great country's citizen, created to serve the public good. I believe corporations deserve to be vilified. I'm even passionate about my position. Sounds dangerous to my job, doesn't it? Maybe so. But let me clarify. The corporate villains are few. They are the mega-corporations like BP and Enron. They include the banks like Goldman Sachs and Morgan Stanley, who cozy up to our gridlocked government. They are the ones that have been designated "too big to fail". Implied in that is that they're also too big to be held responsible. They're not unlike 12 year old kids whose hormones and parental laissez-faire make them into monsters even their mothers can't stand!
I work almost exclusively with smaller businesses. And small businesses agree with the majority of Americans that the mega-corporations have too much unregulated power. They, in large numbers (66.6% if they are aware of the 2010 Citizen United decision) support a constitutional amendment which will not let money be equivalent to speech, thus reducing your and my voices to a whisper of influence.
"Ok. Where are you going with this?" you wonder, if you're still reading.
Let me cut to the chase. I'm suggesting that we need to change our mind about corporations in a fundamental way. And when enough of us change our mind, we'll change the corporations' operational mind-set. And lastly we'll change the politicians' mind (Sigh! They're the last to do it because, like it or not, they always wait for us to lead.).
Presently most corporations have a very specific job. Make money for their shareholders. That has been and is the guiding principle. There is one bottom line: Money. Everything else takes the back seat or is not counted at all. The longest vision is the next quarter. There's no question about the true cost of the product, upstream and downstream. The embodied energy it takes to produce that t-shirt? Not considered. The disposal of the product after it expires, be it computers or athletic shoes? Irrelevant. The human cost in child labor in countries that do our work cheaply? Not our business. The toxins put into our waters from disposal of petroleum waste products? Someone will figure it out.
Money is the bottom line. And now money equals speech. Can you compete with the roar of the corporations?
We're so used to business as usual that we don't question the bottom line. But the corporation of the future (and the future is or should be now) will question this business model. There are many smaller businesses who have already embraced the future. There's Stonyfield who makes my yogurt and Patagonia who dresses me for outdoor challenges. The best example of a larger corporation who has questioned the single bottom line is the multi-national giant Ray Anderson founded: Interface-Flor. These corporations conduct business as UNusual. And they started the only way change can start if it's to be sustained. Supported by the best thinkers in the country, they started by their leaders changing their MIND!
Changing minds sounds too small. Sounds like inaction. Un-American even. But it's actually where all major changes originate. Change your mind, change your life. And these corporations' leaders changed their mind about what constitutes good business and what constitutes the bottom line.
The bottom line of Interface-Flor and the corporations you and I will support in the future through the purchase of their products will be the triple bottom line. In order to be successful, the corporation must be profitable, serve people, and do no harm to the planet. All decisions will be filtered through this triple bottom line: People, Planet, Profits. All three represent the wealth of the business (Read about it in story form in The Un-Game: Four-Play to Business As Unusual and in Ray Anderson's true account of the transformation of Interface-Flor in his book, Mid-Course Correction. Both are available at www.amazon.com)
Observing the triple bottom line in action nation-wide would represent a massive mind-set shift. The difficulty for getting there can't be overestimated. Most people say it can't be done. And so we tweak a little here and a little there, but it's hopeless. Our old mind-set will reassert itself unless we see what holds the old mind-set so firmly in place. And in order to do that we need first and foremost to be interested and open-minded, acknowledging that we don't have the corner on the truth.
Our old mind-set is unsustainable. By definition it cannot last.
Mind-sets are held in place by unexamined assumptions. We are powerless to make sustainable changes unless we can make our unexamined assumptions, parading as truth, visible and can start to scrutinize the "truths we hold to be self-evident." So what are the truths we hold to be self-evident that would make it impossible to change our mind, even if our life depended on it? I'll offer a starting point with one unexamined assumption. Assumption: Earth's bounty, commonly described as resources, is unlimited and exists for human consumption.
If this one is NOT a valid assumption, what then? Our dream or our nightmare?
Ingrid Martine, MA, PCC, author of The Un-Game and mind-ZENgineering coach works with organizations and individuals to empower them to move their lives from a 7 to 10 at work, home, and play.  For her FREE report, "Reap the Harvest of a Quiet Mind:  Empower Self, Empower Others", or "Management Training for Business as Unusual", visit:  http://www.yourleadersedge.com, or connect with Ingrid at:  www.Twitter.com/ingrid_martine and www.facebook.com/coachmartine.