Podcasts
Ingrid Martine and Rick Maurer - The Un-Game Book Interview
Monthly Archives:
May 2013
Un-Game Principle: Authentic relationships and manipulation are mutually exclusive.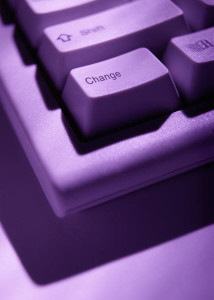 Whether a merger or much smaller-impact decisions are on the table, the word buy-in is often used by the leadership of organizations. It's so popular it has found its way into popular culture. It's talked about when people want others to like and go along with decisions they suspect will be unpopular because they assume people don't like change.
Whether people like change or not (Change is ok when chosen and when one has some sense of control or influence) is not nearly as important as the fact that people hate to be sold to. They equally hate the pushy "used car salesman" and the smooth manipulator who see people and their reactions to a change as obstacles to overcome.  Both attitudes are disrespectful and objectify people.
Buy-in by definition happens in a selling process. I sell. You buy. We are very used to it. Sure, there has been an evolution. Just look at clumsy, transparent TV ads from 30 years ago appealing to fear, greed, and our need for inclusion and compare them to now.
Companies have dedicated good money to hire human behavior experts who now, that all of us are more psychologically savvy, STILL appeal to fear, greed, and inclusion, but do so in a much more subtle and therefore palatable way (for us sophisticates!). We tolerate it even as we know it's happening. Other models are hard to find. We are treated as consumers, not as citizens.
Recently, as I was looking for a boost to my book sales, I came across a program that promised, if you did the work precisely as prescribed, make my book a best-seller on Amazon or Barnes & Noble. Since I believe my book deserves best-seller status, I inquired into it. The program delivers on its promises. However, I couldn't in good faith go through with it. Reaching best-seller status depended on getting buy-in from hundreds of partners with millions of subscribers of their own, who would offer a fabulous gift to all the people who would agree to buy my book on a specific date on, let's say Amazon.
In short, all the people who would buy my $19.95 The Un-Game: Four-Play to Business As Unusual, would get "prizes worth thousands of dollars" FREE from the hundreds of my so-called partners.  Excuse me? I want people to buy my book because they see value in my book, NOT because they caved into their greed and purchased it only to get that 1 in 50 chance to get a ticket to a coveted Broadway play.
Out with buy-in. Buy-in depends on manipulation and is disrespectful.
Managers and leaders, parents and teachers, consider a different term, and I suspect you'll have a different experience in dealing with people from whom you previously wanted buy-in. Consider the term buying-facilitation. In buying facilitation no one is selling. Phew. What a relief! There's a shift to asking "What does this person or this team (or this group of suppliers) need to know in order to make a decision that works for them?" Yes, it assumes that you might not have the product or service they need (Or they may no longer wish to work with you after the merger). It assumes that they have the freedom to choose. It's respectful. It does not objectify the person or the group. They aren't pieces on the chess board. Buying facilitation focuses on the other and meeting their needs. Again and again.  It's hard work. And, in many instances managers and their company will find that their group self-interest as well as the individual self-interest can be served. In some cases, not. That's just what's so. And so what?
We need a new way of being with one another. I don't really even like the term buying facilitation. But I like it better than buy-in. It gets us thinking from a different place. At this time of our American experiment we are at a crossroads. Doing what we've always done is not enough anymore. We need a new level of collaboration, co-operation, and co-ordination to navigate a rapidly shrinking and changing world. We won't get there by business as usual. We won't get there by standard and customary strategies that, when exposed, come up as manipulation. We'll get there through being willing to be beginners…because we are. This is unfamiliar territory. (That also means we need to be willing to be vulnerable. No small task for those more accustomed to fear, greed, and neediness). We'll get there through practice. Practice makes progress. And we'll get there through good will and the knowledge that we only win together. Out with buy-in. It won't get us where we need to go.
Ingrid Martine, MA, PCC, author of The Un-Game and mind-ZENgineering coach works with organizations and individuals to empower them to move their lives from a 7 to 10 at work, home, and play.  For her FREE report, "Reap the Harvest of a Quiet Mind:  Empower Self, Empower Others", or "Management Training for Business as Unusual", visit:  http://www.yourleadersedge.com, or connect with Ingrid at:  www.Twitter.com/ingrid_martine and www.facebook.com/coachmartine.
Posted in
Management
,
Personal and Professional Growth
,
Working with Teams
|
Tagged
buy-in disrespectful
,
buy-in is disrespectful
,
buy-ins manipulate
,
buying facilitation
,
disrespectful attitudes
,
disrespectful attitudes objectify people
,
ingrid martine
,
overcoming obstacles
,
targeting fear disrespectful
,
targeting greed disrespectful
,
unpopular decisions
|
2 Comments